How to search trademark availability? You may have an idea for a trademark and think it's unique because you have never seen it anywhere else previously, but it may already be a registered trademark. Just because a trademark isn't readily visible or easily recognized, does it mean it doesn't exist?
The first step before registering a trademark is to check its feasibility.
Checking the feasibility of a trademark means making sure that an already registered trademark or an identical or similar trademark application doesn't already exist.
To do so, it is necessary to take into account its name, logo and the classes for which its protection has been requested.
Why is it important to check if a trademark is registered?
This prior step can avoid possible conflicts, as nobody wants their trademark to be copied, even if it is done so unintentionally.
Anyone who identifies that a trademark similar to theirs is being registered is highly likely to try to prevent it from being registered.
Getting to this point may imply additional costs, application delays, and even the impossibility of having your trademark registered.
Therefore, for your business strategy, knowing whether there are similar trademarks is essential in order to save time and costs.
How to search trademark availability?
At Singular TM, we are aware of the importance of this first step, and we have a search tool, totally confidential and free of charge, to help you clear up any doubts and decide whether to register a trademark or, on the contrary, look for a new one.
How do I use the browser?
We have a browser on our website for this purpose and, given the confidentiality you are granted by the private client area, you must register.
Once you have registered, you simply have to enter the name of the trademark you would like to register, select the territory for which you want to obtain its protection (Spain or European Union), and click on the 'Search' button.

After the search, all results related to the trademark you are looking into will be listed.
For example, there are many results when searching for the 'ZARA' trademark: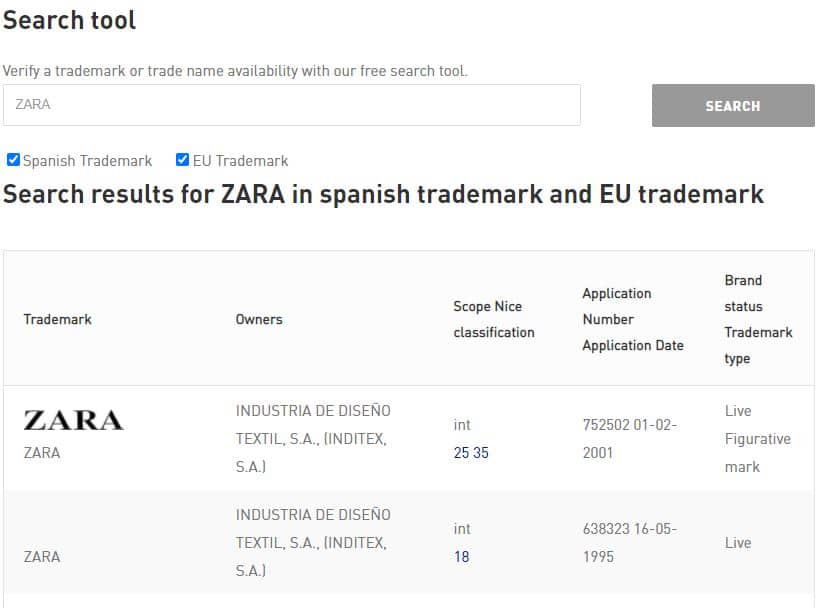 Extract of the search made for the 'ZARA' trademark.
The next step is to interpret the results, and for that you would have to ask yourself three questions:
·        Are there any registered trademarks that are similar or identical to the one I am looking to register?
The first thing to do is to assess whether there is any risk of confusion between the trademark you want to register and any existing ones.
·        Is it a trademark similar to a well-known brand, such as Zara, Coca-Cola or Apple?
You should avoid filing an application if there are similarities with trademarks that are easily recognized in the market.
One example of how the risk of confusion can scupper the future of your trademark is the case of 'VIAJES ZARACELL'.
The four letters (ZARA) contained in this trademark were enough to trigger action on the part of ZARA representatives, as they considered that it was in conflict with their interests.
In this case, although ZARA is not dedicated to travel services, given that it is a renowned or recognized trademark worldwide, it enjoys special protection even in classes in which it is not registered. It should be remembered that ZARA came out on top in this conflict.
·        Does this brand sell products and/or perform services similar to mine?
It is vital to check whether registered trademarks that are found are also registered for the products or services of the Nice Classification, or services for which you want to apply for trademark protection.
If the answer to these three questions is yes, you should consider registering a different trademark.
In conclusion:
It is essential to check whether there is a registered trademark that may be similar to the trademark you want to register.
Doing this research beforehand will potentially save you future conflicts and costs.
By using our browser, you will be able to make this prior search, in total confidentiality, which will help you to make the first decision.
If you still have doubts and need our help, you can contact us, and we will advise you and ensure that your trademark registration is a success.23