To begin with, talking about a trademark is not the same as talking about a trade name. It is important to note that when we talk about a trademark, a product mark or a service mark, we are referring to the sign known as a "brand". On the other hand, when we talk about a trade name, we are referring to another type of distinctive sign so similar that it is normal to confuse them. In fact, both are regulated in the Trademark Law, but… are they the same?
Do not worry, SingularTM will help you with our blog to differentiate them and know which one to choose (SPOILER: a trademark will always be better, so do not forget to register it)!
What is a trade name?
It is a sign to identify a company and its activity (and distinguish it from others). For example, INDITEX, S.A. has registered as its trade name INDITEX, S.A. in Spain.
In other words, the trade name tends to be a sign that is very much associated with what is registered in the Mercantile Register and the name of the business, and although nothing would have prevented the company from submitting ZARA for the registration as this distinctive sign, it is not a recommended strategy, as we will explain later.
What is a trademark?
It is a sign that makes it possible to distinguish both the products and services of a company or private individual among the various competitors in the course of trade.
In other words, it encompasses not only the business identity as such, but also other types of products or services that the owner wishes to offer under this protection coverage.
Or to visualize it even more clearly, continuing the previous example: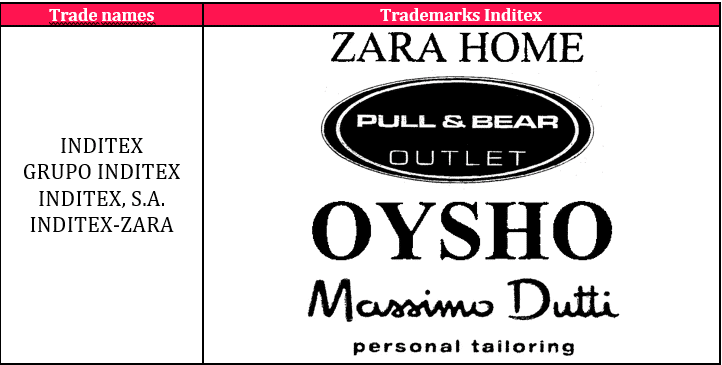 the identity of the trade name is INDITEX and its derivatives, which in turn is the direct or indirect owner of various trademarks, different from what is set out above.
Similarities between trade names and trademarks:
Of the above definitions, the most remarkable is that:
Both signs identify products and/or services.
So… what's the difference between a trademark and a trade name?
The main difference is that registering a trade name presents disadvantages for international expansion. A trade name cannot be extended as an European Union brand or as an international brand, whereas a trademark can.
That is to say, there is no such category in the European Union, not even at International level.
This means that, given that the price for applying for both signs in Spain is the same, except in very specific cases, whenever we are asked, we will always recommend you to apply for a trademark in order to simplify and favor its international extension, if necessary.
Even if your idea does not involve opening your business in other countries, we have to keep in mind that by simply having an online shopping channel you have a good reason to consider extending your trademark, to avoid potential competitors imitating your trademark in other territories.
In fact, the data of applications in 2019 and 2020 in Spain shed light on the importance of the trademark:

In conclusion: Trademark before trade name.
The Nice classification is identical for both trade names and trademarks.
It is not necessary for the trademark to resemble the identity of the company or its services.
A trademark can be extended both within the European Union and internationally, a trade name cannot, and the costs are the same.
If you still have any questions… do not hesitate to contact us! As always, we will provide support by chat, phone or email.
And if you are sure… do not wait any longer and apply for your trademark! You know that it is more advisable than a trade name.
Because, as Walt Disney said:
"The way to get started is to quit talking and begin doing."